Your crosshair affects how your brain aims, these crosshairs are the best of the best!
Depending on what kind of crosshair you have your confidence and reaction time can be influenced. In this article we're going to reveal the 10 best crosshairs you should be using to dominate the competition.
We all know how crucial accuracy is in Valorant, and having the perfect crosshair can make all the difference. Experimentation is key, and having a variety of crosshairs at your disposal can help you find the perfect fit for your playstyle. Maybe you prefer a thicker crosshair for better visibility or a dot in the center for more precise aiming. Whatever your preference, having multiple profiles to choose from can give you the edge you need to dominate the competition. Say goodbye to inconsistent shots and hello to precision and accuracy. These crosshairs have been handpicked by top players in the game and are guaranteed to give you the edge you need to outplay your opponents.
Small Blue Cross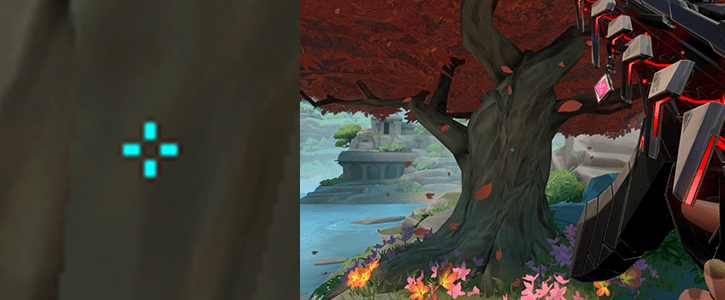 Starting off with one of the most simple and effective crosshairs we have the Small Blue Cross. The blue cross is an amazing baseline to gauge what your perfect crosshair will eventually be. Its vibrant color is bright enough to be seen on almost all contrasting surfaces, while its small form factor allows for more accurate aiming at all ranges.   
But why settle for just one crosshair when you can have 15 different profiles to choose from, right? The small blue cross may be a great baseline, but there are plenty of other crosshairs out there to suit your style and gameplay.And don't be afraid to get creative with your crosshairs. Personalize them with unique colors or add a little flair with some outer lines or a custom shape. After all, your crosshair is a reflection of your individuality as a player.
So whether you're a beginner or a seasoned pro, make sure to take advantage of the 15 crosshair profiles in Valorant. And don't forget to give the small blue cross a try, it may just surprise you with its simplicity and effectiveness.
Wide Crosshair
If you're looking for a crosshair that maximizes your aim potential, the wide crosshair should definitely be on your list. This is an excellent choice for those who prefer a wider field of vision while aiming, without compromising on game quality. With this crosshair, you get to have a wider focus on the horizontal axis, which is key in most scenarios in Valorant. By using a horizontal length of 6 and a vertical length of 4 in the inner lines section, your attention will be drawn to the horizon. And to complete the look, just set your outlines to 1 opacity, 1 thickness, on. So, if you want to make sure your crosshair is optimized for Valorant, give the wide crosshair a shot!
ScreaM Dot
No crosshair list is complete without some form of the coveted dot crosshair.. This dot was made popular by ScreaM, the headshot machine. A lot of people use a dot crosshair in Valorant, but if you're a true dot-enjoyer, you'll be pleased to hear that this is, in fact, a real dot. It's big enough to help you land those signature one-taps, and easy to see due to the contrast on the outline, even if you change the color. But at longer ranges, it's a bit too big, which could be a dealbreaker. Fear not, though, there's a fix! Simply reduce the inner lines thickness to 0.5, and voila! You have a smaller, more precise dot that's perfect for those long-range headshots.
Mini-dot crosshair
Introducing the mini-dot, the perfect crosshair for those who love the dot-style but don't want to sacrifice visibility at longer ranges. This crosshair is all about precision, and its small size makes it a great option for headshot demons. With the dot size changed to 1-1 and the inner lines set to 1-1-1-0, the mini-dot is a subtle yet effective choice. Sure, it might not be for everyone, but if you're willing to take the risk, you might just end up with a 40-kill game. And if it doesn't work out, you can always switch to one of the other crosshairs we've recommended. It's a win-win situation!
Classic crosshair
Looking for a crosshair that's big and bold? Then the classic crosshair might be perfect for you.. With a green outline and a size that's hard to miss, this crosshair is perfect for players who need a little extra help with their aim. It's not just about the size, though; the classic crosshair offers a unique aiming style that feels different from other crosshairs on this list. With outlines on at 1-1 and inner lines set to 1-6-2-4, this crosshair is sure to give you the edge you need to dominate your opponents. So whether you're an OG gamer or just looking for something a little different, give the classic crosshair a try and see what works best for you!
Mini Red Cross
Looking for a crosshair that packs a punch in a small package? Don't hesitate to try the next one on the list. With its fiery red color, it's hard to miss in the heat of the moment. This mini-crosshair offers the precision of a dot without sacrificing visibility. Perfect for those who are on the fence about using a dot or prefer a smaller crosshair. The settings are straightforward, just adjust the inner lines to 1-2 2-1, with 1 opacity, 2 length, 2 thickness, and 1 offset. Or copy the code for ease. Give this crosshair a shot and see if it can help elevate your gameplay.
Asuna / Small White Crosshair with Outlines
Looking for a crosshair that offers the best of both worlds? Look no further than the Asuna crosshair. This small white crosshair with big gaps and outlines strikes the perfect balance between visibility and size. It's the go-to crosshair for professional player Asuna, and for good reason. With a style that allows you to place heads in your crosshair rather than your crosshair on heads, it's a great option for players who prefer this aiming style. To set it up, simply turn on outlines at 1-1 and set inner lines to 1-2-1-3 with 1 opacity, 2 length, 1 width and 3 offset. Trust us, you'll feel like a pro in no time!
Moving crosshair
If you're looking for something unconventional, we have the perfect crosshair for you - the best moving crosshair. Yes, you read that right! While most moving crosshairs are impractical, this one is surprisingly viable. It opens up when you move and shoots, but doesn't disappear entirely. Unlike most moving crosshairs, it's actually elegant and fun to use. Even though I haven't used a moving crosshair in years, this one was worth the experience. If you're a fan of moving crosshairs, this one is definitely worth a try. Check out the code in the description below!
Yellow Arrows
Looking for a crosshair that stands out from the rest? This crosshair combines inner and outer lines in a unique way to wrap your crosshair in a cool and distinctive design. By setting the outlines to 0.8 opacity and 1 thickness, inner lines to 0 opacity, 3 length, 3 thickness, and 4 offset, and outer lines to 1 opacity, 3 length, 1 thickness, and 3 offset, you'll have a crosshair that is sure to turn heads. Experiment with colors, but green, yellow, and white are our top picks. Trust us, you won't be disappointed. Just copy the code and give it a shot in the game!
BEST CROSSHAIR
If you're still on the hunt for the perfect crosshair, look no further than the white plus crosshair originally used by cNed. Not only does it look clean, but it's also easy to see and works great for aiming. This is a personal favorite of many gamers, including myself, and I highly recommend giving it a try. Plus, it comes in many different colors, so you can customize it to your liking. For the settings, all you need to do is turn on inner lines and set them to 1 opacity, 4 length, 2 width, and 0 offset. Or simply copy the code provided below and see for yourself why this crosshair is a favorite among gamers.
That will round out our list for the top 10 best crosshairs for all you gamers out there. Remember, finding the right crosshair for you is all about personal preference, so don't be afraid to mix things up and try something new. Look out for all things Valorant in our upcoming articles brought to you by [aimlabs].