GarrettG Teaches Pro Competitive Rocket League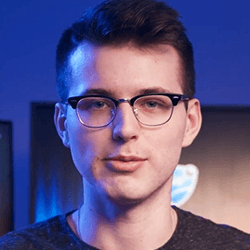 GarrettG
Meet Your Coach: GarrettG
Lesson 1
GarrettG provides context for his journey to stardom and dominance of competitive Rocket League. Topics include:
His early tournament roots and how he began competing with some of his first teammates

Garrett's advice for players who are looking to pursue Rocket League more seriously

How he's been able to compete at the highest level for so long

Overcoming major setbacks in his competitive career and bouncing back

Aimlabs Challenge
In this lesson you learned about Garrett's personal role models and what he looks for in his teammates. Take a few minutes to reflect on the role models and teammates you admire - what qualities and characteristics do they possess that makes you want to be more like them? Work on emulating these qualities in your game this week.