GarrettG Teaches Pro Competitive Rocket League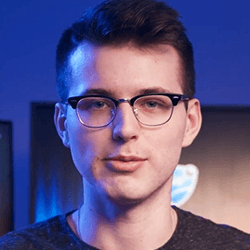 GarrettG
Mechanics (Air & Ground)
Lesson 5
GarrettG walks you through critical air and ground mechanics, including:
How to best utilize flip resets

Utilizing the backboard to set up scoring opportunities

Air dribbling to buy time or bypass defenders

Using bounce dribbles to set up a power shot

Ground flicking to get the ball past defenders

Utilizing Speed flips to gain an advantage during the kickoff

Aimlabs Challenge
As GarrettG explains, it's very important to be a threat both on the ground and in the air. Now that you've learned 3 essential mechanics for both, work on adding these tools to your arsenal. If already knew some or all of these mechanics, test yourself to see how consistently you can perform them.