GarrettG Teaches Pro Competitive Rocket League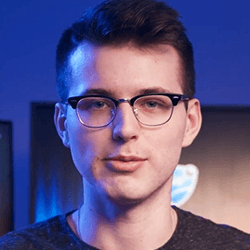 GarrettG
GarrettG's teaches you his personal approach to decision making, including:
The importance of staying mindful about defense even when attacking

How playing smart can be more effective than simply going for risky plays and flashy mechanics

How to think about your decisions from the opponent's POV to better understand how they'll react to your movement around the field

The importance of committing to plays without hesitation

How to utilize your teammates to create more effective defensive and offensive plays

Aimlabs Challenge
This segment highlighted the advantages you can gain by thinking about your opponent's next move. Watch a replay of a recent ranked match that you lost and analyze the moments leading up to each goal the opposing team scored on your team. Watch these scenarios first from your POV, and then your opponent's - taking note of anything you could have been paying attention to which would allow you to predict their intentions.