CoreJJ Teaches Carrying As Support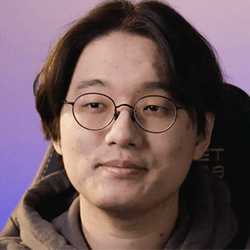 CoreJJ
Creativity And Adaptation
Lesson 9
Known for his in-game X-Factor and ability to consistently defy enemy expectations at the highest levels of play, Core gives you insight into different elements of his unique playstyle including:
Different ways he pushes himself to be creative in and out of game

How Core adapts to new metas and champion picks

The importance of tracking enemy cooldowns during a teamfight to identify fight triggers and opportunities to capitalize

Aimlabs Challenge
A major theme of Core's teaching during this course has been developing empathy for your opponent. Continue developing this skill in yourself by placing emphasis on defying your opponent's expectations during your games this week. This could apply to things like your trading patterns in lane or your map movements around fog of war in the mid to late game. Remember: this dimension of your play can be difficult to work on without extremely strong fundamentals, so don't place too many initial expectations on yourself and have fun with this challenge!