CoreJJ Teaches Carrying As Support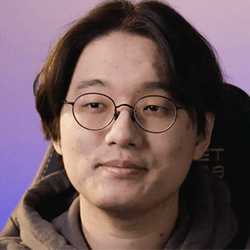 CoreJJ
Learn how a world champion support thinks about vision and the macro game, including:
How to simplify team strategy into "turns" on the map

Identifying which team's turn it is and different ways to play accordingly

Using information denial to apply pressure to your opponents

Properly take vision and information back from the enemy

Aimlabs Challenge
In this chapter, Core covered many high-level concepts which take time to learn and apply even for professional players fully, so we've split this challenge into three separate difficulties.
Level 1: Focus on identifying which team's turn it is at any given time. Remember: this is closely tied to who is first to an objective or area on the map.
Level 2: In your support games this week, attain and utilize information on the enemy's whereabouts whenever possible. As Core touches on, this could be attempting a dive or pick play when your team has a turn, or giving more respect to the enemy team on their turn.
Level 3: Really put yourself in the shoes of your enemy. What information do they have and what might their next move be? Knowing this, how can you preemptively act to make them waste their turn? How can you deny them additional information by clearing vision or using fog of war to mask your position? This challenge is all about consciously making the game as difficult for your opponent as possible.