Scump Teaches Pro Call of Duty Fundamentals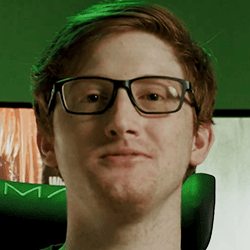 Scump
Scump gives you an in-depth breakdown of:
Centering and its importance in deciding if you'll win a gunfight

How strafing should interact with aiming to make hitting enemies easier

The effect that aim assist should have on your aiming habits

How to recover situations where your first couple shots miss

Aimlabs Challenge
Record and watch a replay of yourself playing in a serious environment (such as the ranked playlists). For each kill or death, analyze how close your centering was to any target that appears on screen. If the target appeared from a predictable angle consciously note what sort of correction you could've made. If your centering was way off, ask yourself if there was any information (map or sound cues) which could have allowed you to better predict where that player would be. Watching these replays may initially seem tedious, but will steadily contribute to developing a much better "sense" of where your center dot should be at any given time.