Sneaky Teaches ADC Strategy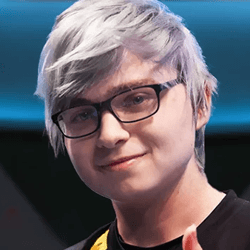 Sneaky
Strong Side vs. Weak Side
Lesson 5
Sneaky explains how the concept of strong side and weak side can better inform your decisions in game, including:
Why strong side and weak side occur and how to determine which side you're on.

How to adjust your decision making pathways depending on which side of the map you're on

Several examples of how to utilize strong side advantage to gain a personal and team advantage

Several examples of how playing weak side correctly can create very difficult decisions for the enemy team

Aimlabs Challenge
Playing properly around strong vs. weak side is one of the most difficult concepts in the game that even high-level players struggle with. In your games this week, focus on being able to determine whether you're on strong or weak side by analyzing the directional pathing of your jungler on the map (and trying to track the opposing jungler). If you're already able to do this fairly consistently, the next step is to begin orienting your laning and trading around Sneaky's suggestions from the lesson.