FalleN Teaches In Game Leadership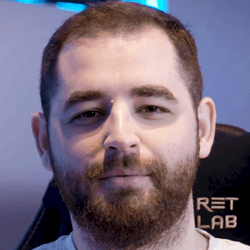 FalleN
12 Video lessons

Public release date: 11/14/22
Gabriel "FalleN" Toledo is one of the godfathers of Counter-Strike. His countless 1st place trophies have established his reputation as one of the best awpers and IGL's in CS:GO history. In this course, he'll teach you the mechanics, skills, and strategies it takes to lead your team to victory.
Learn about Fallen's storied career, including:

His esports origin in Brazil

The inspiration for creating his gaming organization Games Academy

The progression of competing in regional and international tournaments

Challenges he faced and the legacy he wants to leave behind in CS:GO

FalleN gives his thoughts on key in-game settings for CS:GO, touching on:

His preferred mouse/hand positioning.

Optimal game settings that can affect your gameplay.

The value of using special key bindings and macro keys on your mouse.

Fallen's personal mouse sensitivity

His warmup routine and preferred game modes to practice in

FalleN explains the importance of having an in-game leader and what they bring to the table by:

Giving you an understanding of what are the real values in-game and how it helps to get objectives.

Having responsibility for guiding the team.

Putting your team on the same page.

Having someone vocal to bring up team communication.

FalleN teaches you how to improve your aim by:

Testing out different settings to find a mouse sensitivity that suits you.

Weighing the pros and cons of high and low mouse sensitivity.

Thinking more critically about how your movement impacts your ability to hit shots.

Understanding weapon recoil and how important it is to master it.

FalleN teaches you how your movement can impact your game, covering topics such as:

The benefits and setbacks of crouching.

The value of resetting your position.

How being patient can help you to collect information.

Understanding what your priority is in your current position.

"Right eye" component and how it can give you an advantage.

Get valuable advice on AWPing from one of the greatest AWPers of all time, including:

How to control a certain part of the map with an AWP.

How to contest information.

Understanding when you should be finding kills or holding a position.

Rotating without giving your position up.

In this team-focused lesson, FalleN teaches you:

The distribution of roles in CS:GO.

What each role does and what your goals are for certain roles.

To understand the functions of your role as both terrorist and counter-terrorist.

How your role can change responsibilities in a given situation.

In this lesson, you will learn the values of managing your economy by:

Buying based on your team's economy.

Understanding how the meta shifts and how it impacts your usual buys.

Thinking about your next round purchase if you lose the current round.

Saving your purchases and avoiding death in near-impossible scenarios.

Eliminating an enemy with a high-value purchase when you're on eco to damage their economy.

FalleN discusses various ways to use grenades and how they can elevate your game by:

Showing you pro strategies.

Teaching you how to control the map with grenades.

Timing your grenade usage to help create openings.

Giving examples of how to use your grenades efficiently.

Showing you some basic grenade lineups and how valuable it can be for you to learn them for every map.

FalleN teaches you different ways of getting your communication game one step ahead by:

Avoiding emotional outbursts and keeping a cool head.

Keeping communication game-relevant during live rounds.

Making your communication as quick and concise as possible.

Communicating your intentions and movement to allow teammates to assist you.

Leading your teammates to the next move with the information you've gathered.

FalleN teaches you different ways to improve your shotcalling by:

Gathering information and analyzing what the enemy team is thinking.

Getting a sense of how the enemies are using their utility, to inform your decisions.

Learning important parts of each map and how to contest them.

Understanding the meta.

Showing you an example of how to assess a given situation.

FalleN teaches you the value of looking back on your own gameplay by:

Helping you identify things you might have missed and any bad habits you can correct

Finding opportunities that you might've missed out on.

Asking yourself how your current situation is helping your team.

His take on comparing his gameplay to other pro players.